An asset is something that grows in value over time
Traditional assets include stocks, bonds, property, and more
Owning assets is how you achieve financial independence and retirement
But what if you can't afford to buy traditional assets?
You build one!
Amassing Wealth is an incubator program to help you build an online business that serves as an asset.
This is not a get-rich-quick deal. This is a long-term process that requires hard work and growth.
But anyone can do it. It's a set of skills and mindsets that you can learn and apply.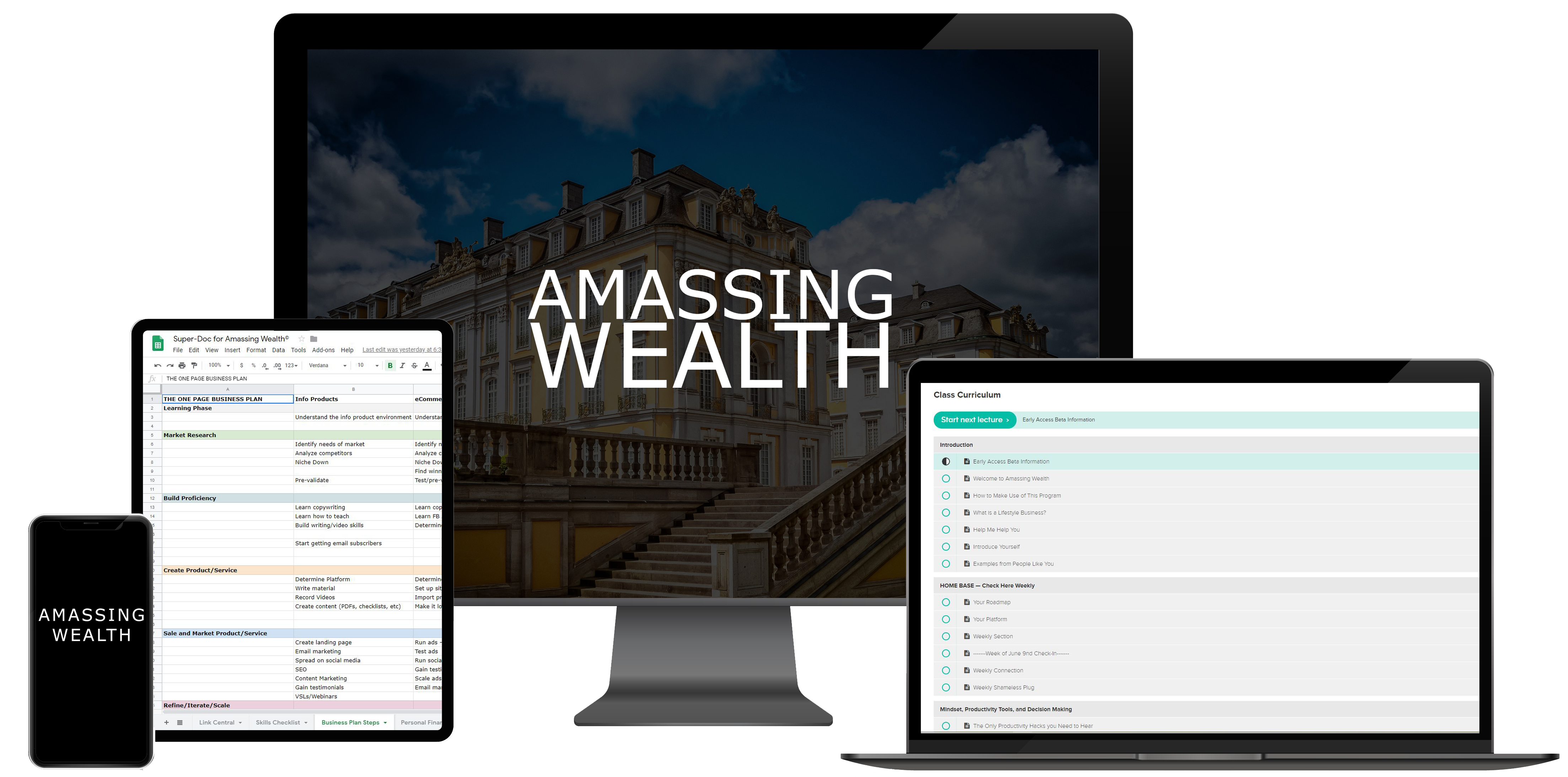 You learn by doing, and that's what we're all about. Our system is set up to get you making real progress day-by-day.
We help you determine which of the Big 3 Business Models are right for you.

eCommerce - Selling physical products online

Information products - courses and eBooks to share your knowledge

Marketing Agency - using freelancers or a fulfillment service to outsource the work
PLUS 2 bonus models:
No-coding
Asset Acquisition (Micro Private Equity)
What we offer:
More than a dozen courses on building high-value skills that anyone can master

1-on-1 consulting to ensure you're making progress by taking the right steps at the right time

A community of like-minded, ambitious peers

Convenient weekly check-ins to make sure you're on the right path
Dozen of templates on sales, marketing, and more to make sure you never get stuck
What is a lifestyle Business?
It's a business that you run by yourself for the purpose of freedom. You sell a product or service and automate and delegate as much as possible.
"Owner mentality"
Some of Our Resources
The web has too many options. I've made my way through tons of resources in the past 4 years. I've created some that will help you on the track to success:
The Member Super-Doc. This is your homebase for all things AW. It includes a skills checklist so you know exactly where you stand and what you need to learn. It also has business plan steps for each of the Big-3 Business models so you always know the next step. Lastly it has personal and business finance templates so that you can manage your wealth.
100+ of the best resources from around the web. If I can't create a better resource, I'll show you where to find the best. Only from sites and programs I've tested and that work.
Templates Galore. If you need email newsletters, sales scripts, copy for ads or landing pages, we have a template for that. We'll show you how to design any of your sites and how to make your products look professional.
Premium Members get extended in-depth coaching so that you can build your sales and interview skills.
Amassing Wealth is self-paced, and works in 4 stages:
Introduction - Learn about assets, lifestyle businesses, and the concepts of passive income
Core skills - Master the core skills everyone needs
Specialized skills - Develop the specific skills for your chosen business model. You'll develop these skills while you build a rough draft of your product or service
Business Models - Send It! Ship that Minimum Viable Product and start selling, then → Refine, automate, and scale
Plus learn the ways to automate and delegate your business as a system so that you don't back yourself into a corner working 60+ hours a week
Course Curriculum
Introduction
Available in days
days after you enroll
HOME BASE — Check Here Weekly
Available in days
days after you enroll
Mindset, Productivity Tools, and Decision Making
Available in days
days after you enroll
Your Instructor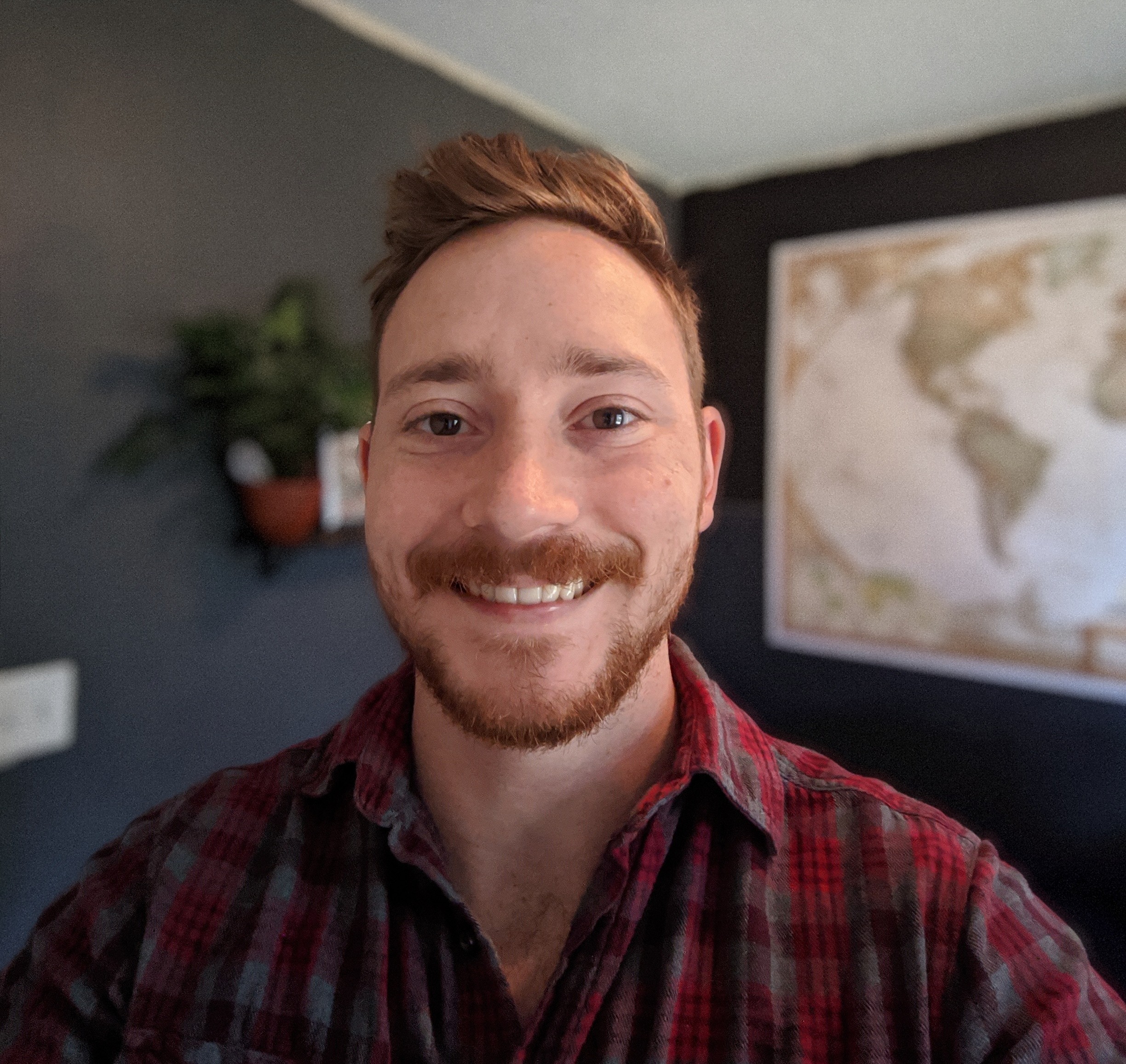 Hey.
My name's Brooks.
I failed to make any money online for 4 years, about every way you can. I hated my job, and couldn't see any realistic way of getting out.
Finally in 2017 I found success in eCommerce and info products.
I had achieved freedom from my 9-5, but I wasn't fulfilled. What I did love was sharing my experience and helping others do the same.
I created Amassing Wealth to be the absolute best way to create an asset in the form of a lifestyle business, in order to help you make passive income and reach financial independence. To learn more about me, try the 7-Day free trial of my program.
Frequently Asked Questions
When does the program start and finish?
This is a completely self-paced, on-going online program. Updated with new resources and content weekly
How long do I have access to the school?
Standard membership — Lifetime Access! Premium Membership — Lifetime Access, Premium features based on flat monthly price
What if I am unhappy with my results?
If you don't love it within 32 days, we'll return all 100% of your money.
This is a $4000+ value that we previously offered for $297 or $99 a month.
We want it to be easier and more accessible than ever to get started on your business.
So now you can get unlimited lifetime access for $1
Or individual weekly feedback and coaching for $20 a month.
Disclaimer: No Earnings Projections, Promises Or Representations
You recognize and agree that we have made no implications, warranties, promises, suggestions, projections, representations or guarantees whatsoever to you about future prospects or earnings, or that you will earn any money, with respect to your purchase of Amassing Wealth products, and that we have not authorized any such projection, promise, or representation by others.
Refunds available for Premium within 32 days from start of subscription (monthly subscription required for Premium). Refunds for Standard 32 days from purchase date.